Our All-in-One Polish or 1-Step Polish Explained
Here at The Detail Nerds, we are passionate about vehicles. We love most makes and models and are passionate about keeping them looking pristine. Outside of your home, your vehicle is probably the second-largest expense you will have in your lifetime. While we are passionate about keeping it looking new, this passion also helps it retain its value. The part of the vehicle that most people will get to see is the exterior of it, and the outside is where we enjoy putting most of the effort.
We offer several different levels of polishing. You may refer to it as buffing or heard it referred to as paint correction. In this post, we are going to cover our entry-level polish/buffing option. We will be covering all of our polishing/buffing options through blog posts. Make sure to check out our Facebook page and like it so you can be notified of when we post them. Alright, enough of the intro, onto the meat and potatoes.
For now, our complete detailing package includes a polish. This polish is with our All-in-One polish that is produced by a company called Rupes. The polish itself is called UnoProtect. This stuff is incredible. Rupes Uno-Protect is a compound, polish, and sealant/protectant all at once! So, what does that mean? Well, the compounding part will remove light to moderate defects. Think of defects like scratches, scuffs, and swirl marks. Swirl marks can also be described as looking like cobwebs. The polish portion of UnoProtect will get rid of oxidation on your paint and leave a high-gloss finish. Finally, the sealant portion will act as a sacrificial layer over your paint. This layer protects your paint from bird droppings, water spots, etc. The sealant also lasts longer than your traditional wax. Most waxes last 30-days. The sealant in UnoProtect can last up to 90-days!
This stuff is amazing and we promise the results will leave you impressed. Our complete detailing package may be a little more expensive compared to most detailers in the area, but we assure you the results are well worth it. Here is an example of a vehicle we recently did a complete detailing package on. Check out the gloss! The background picture at the top of this post is a GMC Sierra that had this polish done also!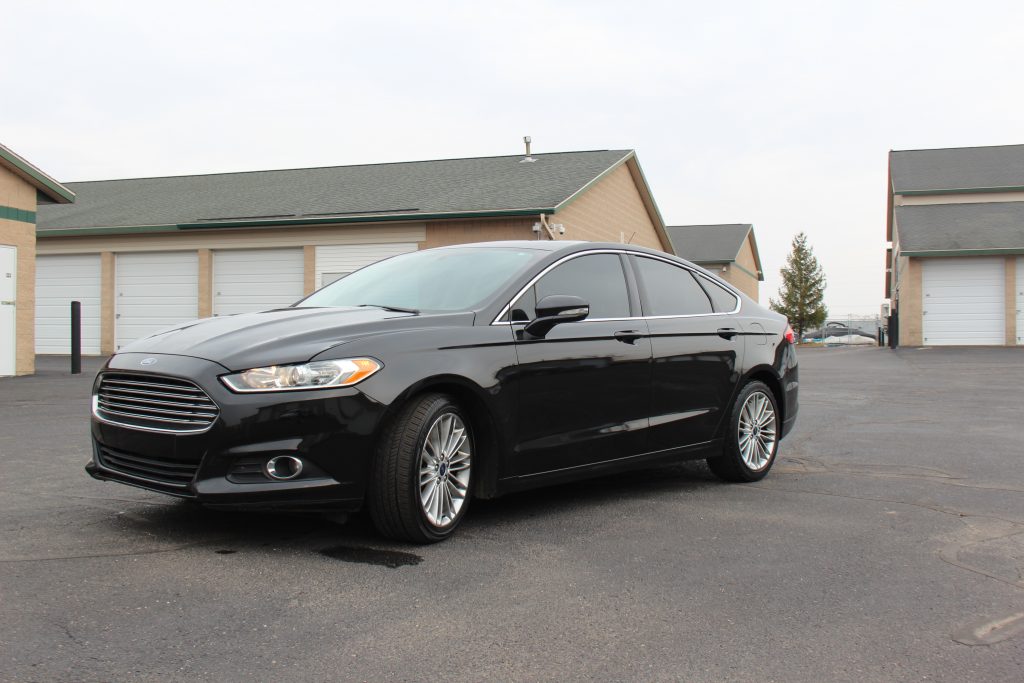 Just incase you are thinking to yourself "this car could have been in great shape and the polish did nothing" take a look at the picture below. This is the hood on the Ford Fusion. We used the all-in-one on the right side and the left side is how the entire car looked. It was super oxidized which made it look not as black, had a ton of scratches, and the gloss was gone.
Full Detailing Exterior Preparation Process
To get the results that we achieve, it takes following a special process. As our slogan says, we have taken the art of detailing and turned it into a science! The first step of the process is washing your vehicle. We do this by using the 2-bucket wash method. Click here to learn more about the 2-bucket wash method. After washing your vehicle, we do chemical decontamination. Chemical de-contamination may sound severe, but it is completely safe and helps remove iron particles that have attached themselves to your vehicle's paint. If you do not remove these, they will cause scratches during the polishing process. At this point, we are going to take a step back and go into detail about the iron contamination that is on your paint.
You may be asking yourself, where do these iron particles come from? Well, you pick them up while driving. They come from brake pads, rotors, accidents, etc. If you were to wash your car improperly, go through a car wash, or even wax your car you, could be dragging these abrasive little devils across your paint, causing scratches.
After the chemical decontamination process is complete, we then clay bar the entire vehicle. This step removes anything else that may be on your vehicle's paint that could cause more scratches during the polishing process and future washes. We use a clay bar lubricant spray which, needs to be rinsed off before we hit move onto our next step. The next step is drying the vehicle. Do we dry it with a towel? Absolutely not!! We use a specially designed blower that has filtered and heated air. This step adds a little more time than drying with a towel, but it is one more step we do to ensure that no more scratches will be added to your vehicle's paint. The last step before the polish is the prep. We use a special spray that removes any remnants of wax or sealants that may be on the surface of your paint.
The last step would be the polish itself. We use what we consider the worlds best polisher. We only use Rupes polishers, and we have four different models/sizes that are used on your vehicle. For the pad, we use the Rupes yellow finishing pad.
There it is. There is a lot that goes into our complete detailing package. The all-in-one polish is just part of it. Do not forget about the wheels, windows, glass, tires, and the interior that we will transform also. All of this is what it takes to get superior results. This is why or complete detailing package takes a little longer than what most people are accustomed to when getting their car detailed. If you are interested in bringing your vehicle back to its glory days, give us a call today!
Here are a few more examples of vehicles that we have done our all-in-one polish.