We Only use One: The Best Ridgid Vacuum for Car Detailing – Ridgid Model 4000RV
Finding the best vacuum for car detailing is a critical first step for anyone aspiring to start a detailing business. It is also super critical for the at-home detailer that wants the best results. There is only one vacuum we use at The Detail Nerds, and it is the best rigid vacuum for car detailing.
Some people will tell you any wet/dry vac can get the job done. Sure, if you really want to stretch, any vacuum you get online or at a big box store can get it done. Heck, your household vacuum with a hose attachment could probably do it. After much testing, though, we only use one vacuum. It may surprise you also, considering we are a professional detailing shop and do hundreds of interior details a year. We only use the Ridgid Model 4000RV in our detailing business.
Do not get caught up thinking you need to spend a ton of money buying the latest and greatest vacuum to take your car detailing business to the next level or your home garage. The only unit we use can be purchased here on Amazon and be at your door the next day or found at any big box store. This unit has all the suction power you will need and will not empty your bank account purchasing it.

Why is the Ridgid Model 4000RV so popular for car detailing?
Step into any car detailing shop or have a mobile detailer come to you, and there is a solid chance you will see them using this vacuum. Take it a step further and search car detailing on YouTube, and there is a strong chance you will see them recommending this unit also.
The Ridgid 4000RV has tons of suction needed to clean vehicles properly. Please note that this unit is not a cure-all to replace a solid steamer or hot water extractor. For most at-home-detailers and people starting their own car detailing business, this unit should be able to tackle most of your interior detailing needs. Want to know what hot water extractors we use? Click here for that article!
Provided you take decent care of your vehicle, or do so once you do your first deep clean, you really should only need this vacuum, brushes, and an excellent all-purpose cleaner. If you are starting your own car detailing business, this vacuum will be your go-to, along with the other must-haves. Check out our other articles if you are starting a detailing business to learn all the different tools we use and recommend.
The 4-gallon capacity of the tank is more than enough for detailing cars. We can usually get ten interior details done before we empty the unit. Even then, it has plenty of room for more debris. The reason we empty it is that it gets so dang heavy.
This vacuum itself has a 5hp peak rating. This is important. You may see large horsepower motors, but they typically come with a much larger tank. This combination actually lessons the suction. This horsepower, coupled with the 4-gallon capacity, is the perfect recipe for awesome detailing power.
This vacuum is compact and only takes up a little space. It is perfect for the mobile detailer, at-home-garage, and even a professional shop like ours. It is super light (when empty) and is easy to move around.
Out of the box, the 4000RV is ready to rock for car detailing. It has a 20ft power cord that makes it super easy to vacuum an entire vehicle without needing an extension cord or unplugging it and moving it all the time.
Vacuum Accessories for Car Detailing
What we will recommend below is not absolutely necessary for car detailing. However, if you are starting your own business or love nerding out about car detailing at home, we promise these recommendations will make your life much easier.
Crevice Tool
If you do not have an air compressor to blow out hard-to-reach areas, a solid crevice tool can help. This tool attaches to the end of the hose and will help you reach those hard-to-reach areas. Pro-tip for those hard-to-reach areas for the vacuum, use a brush similar to this to break up the debris while vacuuming to get the best results.
Better Hose
Be careful when you purchase this unit. The links we are providing go to a package where you get the stock hose and an upgraded hose. The stock hose is garbage. It literally broke on us within the first week. Do a bit of research on this, and you will find nearly all detailers share the same experience. Good for you, though; we learned the hard way. Already have a unit with the crappy stock hose; here is a link to the one we use. We have done hundreds of interior details with our original upgraded hoses!
Have a Pet? You need this, Tool!
This tool is a must-have if you are an at-home detailer and have a pet. If you are starting your own car detailing business, this is a mega-have! Side note for the people starting their own business, pet hair removal can crush the probability of any interior detail. Depending on the severity of the pet hair, we charge anywhere from $50-$200 more for the detail. We have actually charged $1100 for an interior detail for the worst we have ever seen. It was a beautiful Audi SUV, but the dog hair was so built up you could not see the seats' fabric or carpet's fabric! Click here to see the pet hair removal tool we use the most!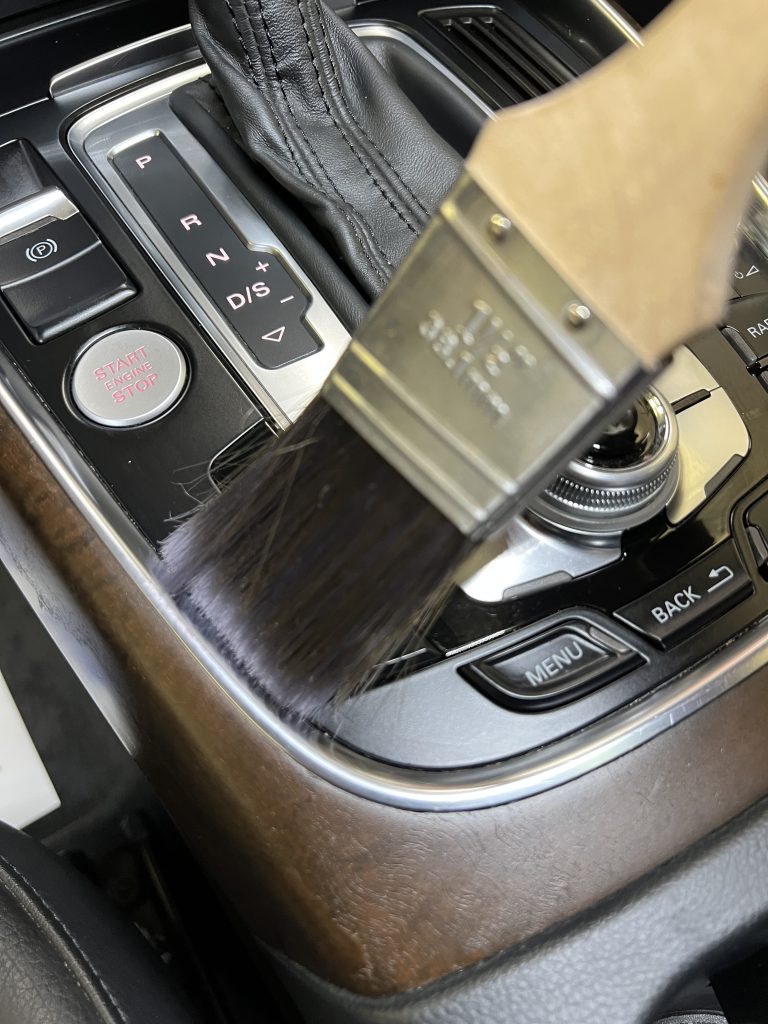 Detailing Brush
Stop the presses! We are about to make some people's heads explode. You need a solid detailing brush to agitate stubborn gunk and loosen dust. When we first started out, we paid big bucks for so-called detailing brushes. After going through many due to poor quality, we started using paint brushes you can get online here or at any big box store.
You can get a wide variety of sizes for all areas of the car. Another added bonus is that you can simply trim the tips back once they get tired. They not only clean well but last forever, which helps increase the probability of your business if you are starting one. Trust us, a penny saved is a penny earned in the car detailing business and life!
Conclusion
Whether you are the at-home detailing warrior, seasoned veteran, or soon-to-be car detailing business owner, the Ridgid 4000RV is the best rigid vacuum for car detailing. Actually, it is the best vacuum for car detailing!
Disclaimer – As an Amazon Associate I earn from qualifying purchases. Any income earned from these commissions allows us to continue to research and find the best products for you to use!